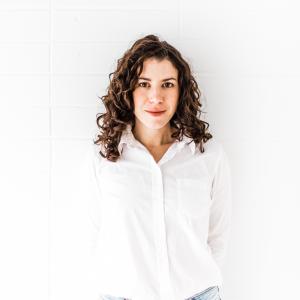 Rachael Speirs
Rachael Speirs was born in Oakville, Ontario and raised in Toronto and Cambridge, Ontario. As a child Rachael honed her painting skills through copying traditional childrens story book illustrations and admiring the embroidery work of her grandmother. She stole scraps of fabric from her mother sewing, filling her spare time with making and creating. Rachael would submerge herself into nature or a piece of music, allowing her imagination to run wild. As a self-taught artist, Rachael looked to her childhood picture books and her grandmothers embroidery work for inspiration and to practice her skill. As an adult art never left her. Rachael's creative inspirations include Carson Ellis, Kate Bush, Shary Boyle, Frida Khalo, Amy Cutler and David Blackwood. Although she worked and studied Social Work, she maintained her love and passion for art. Rachael's education and working career in social work is reflected in the humanitarian elements of her work. Her pieces will forever showcase her need to share a human experience and to connect with the viewer. Rachael exhibited her work for the first time in 2010 and has since participated in multiple exhibitions and received multiple awards and grants including best mixed media at Riverdale Art Walk, top 5 installations for DesignTO and has received grants through the Ontario Arts Council and Toronto Arts Council.
---
Why is it important for people to have art in their home or life?
It enriches our world. Having art in our home is a way of reflecting our values and the depth, richness and beauty of the world.
Favourite book
The Snow Child by Eowyn Ivey. Incredible story that is fairly unknown.
Why is art important to you?
Art allows me to express the multitude of jumbled thoughts and feelings and make sense of them in visual metaphors.
When did you start making art, and why?
As a child, I had long stretches of solitude and alone time. I filled that time with expressing myself in artistic and creative ways and used whatever scraps and materials I had at my disposal. This includes scraps of cloth from my mothers sewing and renovation and building materials as canvases.
What artists do you admire right now?
Shary Boyle, Summer Wheat Lillian, Kathleen Ryan, Simone Elizabeth, Amy Cutler
I'm really good at making (a) ...
mess
Select Past Exhibitions
2020
2020
2020
2020
2019
2019
2019
2019
What do you mean, "try"?
Try-before-you-buy with a 3 month rental. 100% of your rental payments go towards the purchase (interest free). Message the artist directly, and start the conversation.
---
Art made (truly) affordable
We make it easy for you to try art with smart payment plans and try-before-you-buy models.
See How It Works
---
You're covered.
Artwork protection is included on all art rentals up to $5K. Our Customer Care team is always here to help.
Contact Us
---
Unlock Trade Access
For industries including interior design, film/TV production, & real estate staging: rent original pieces that fit with your project vision, budget and timeline.
Apply for Trade Access
---
1% from every transaction goes towards a Canadian arts nonprofit.